This module focuses on the MDS 3.0 RAI Manual changes for 2019. It will give your staff the information they need to implement the 2019 MDS 3.0 changes.
Your purchase entitles you to one year (356 days) of access, starting on the date of purchase.
To purchase the training, click "Enroll in Training" and choose "Purchase Module" on the payment screen.
Audience
This training is designed for long-term care professionals working with MDS 3.0 (Directors of Nursing, Current MDS Coordinators, Previous MDS 3.0 training attendees) as well as facility administrator staff who have completed the MDS 3.0—The Basics series or have comparable experience.
Learning Outcome
As a result of this activity the learner will enhance their knowledge and competence in the revised Resident Assessment Instrument (RAI) instrument.
Objectives
By the end of this module you will be able to:
Review chapter updates, including Chapter 2: Scheduling and Completion, Chapter 4: CAA Summary, and Chapter 6: NEW PDPM Codes.
Review sections with updates, including sections A, C, D, GG, I, J, K, and O.
Review new scheduling guidelines under PDPM.
Continuing Education Credits
Credits available until February 28, 2022.
Contact Hours in Nursing Continuing Education
The University at Albany School of Public Health is approved as a provider of nursing continuing professional development by the Northeast Multistate Division, an accredited approver of continuing nursing education by the American Nurses Credentialing Center's Commission on Accreditation.

This offering is approved for 1.0 nursing contact hours.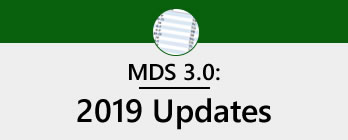 Enroll in the training using the learner's account. Enter the purchaser's information only in the payment step.
Training launched: December 3, 2019
Estimated time: 1 hour
---
The planners and course authors have no financial arrangements or affiliations with any commercial entities whose products, research or services may be discussed in this activity. No commercial support has been accepted for this activity.