This training is based on the MDS RAI 3.0 Version 1.17.2 (effective October 2020). CMS is releasing a new version which will go into effect in October 2023. If you purchase this self-paced online MDS webinar training at this time, you will have access to the newly updated training modules when they are available in November.
To be notified about future live webinar trainings offered on these updates please complete this survey.
This module of MDS 3.0 focuses on effective use of the RAI User's Manual, including basic knowledge needed to use the MDS 3.0 assessment form effectively.
Your purchase entitles you to one year (365 days) of access, starting on the date of purchase.
To purchase the full 6-part training, click "Enroll in Training" and choose "Purchase All Six Basic Modules" on the payment screen. This option is available through any MDS Basic module.
Audience
This training is designed for long-term care professionals working with MDS 3.0 (nursing staff, MDS coordinators, social work, activities staff, therapy staff, nutrition and dietary staff) as well as facility administrators.
Learning Outcome
As a result of this activity, learners will expand their knowledge and competence in coding for Sections C, D, E, F, and Q.
Objectives
By the end of this module you will be able to
Code MDS Section C: Cognitive Patterns
Code MDS Section D: Mood
Code MDS Section E: Behavior
Code MDS Section F: Preferences for Customary Routine and Activities
Code MDS Section Q: Participation in Assessment and Goal Setting
Continuing Education Credits
CNE Credits offered until March 23, 2025.
Contact Hours in Nursing Continuing Education
The University at Albany School of Public Health is approved with distinction as a provider of nursing continuing professional development by the Northeast Multistate Division Education Unit, an accredited approver by the American Nurses Credentialing Center's Commission on Accreditation.

This offering is approved for 2.0 nursing contact hours.

The nursing contact hour(s) expire: 3/23/2025.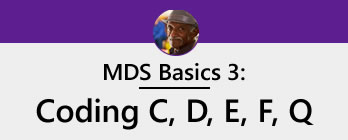 Training launched: January 10, 2019
Last updated January 9, 2020
Estimated time: 2 hours
---
The planners, moderator, and presenters do not have any financial arrangements or affiliations with any ineligible companies whose products, research, or services may be discussed in this activity.

No commercial funding has been accepted for this activity.