"From Evidence to Practice" is a self-paced, web-based course, that teaches the evidence-based public health decision-making process by plunging learners into a realistic situation. In the course, learners are asked to understand and employ the evidence-based framework to research and develop an intervention strategy that addresses disparities in birth outcomes in a local community. Learners make a series of choices about finding data to accurately describe the problem, evaluate interventions based on evidence and applicability to the community, and defend their choices. The course outcome—securing funding for interventions chosen—depends on sound evidence-based decision-making.
As learners work through their assigned tasks in the course, feedback alerts them to how well they have understood the material presented. Upon finishing the course, they may print out a certificate of completion.
Continuing Education Credits
This training is hosted on an external website. Please refer to that site for available credits.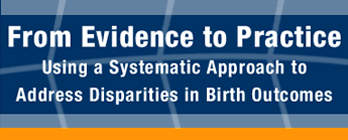 This course is hosted on another website. You will need to register on that site after clicking the button above.
Training launched: January 1, 2006
Estimated time: 3 hours
Free and open to the public
---
The planners and course authors have no financial arrangements or affiliations with any commercial entities whose products, research or services may be discussed in this activity. No commercial support has been accepted for this activity.